Perspective
The Vention Growth Toolkit:
Building the capabilities your company needs as it grows
March 14, 2022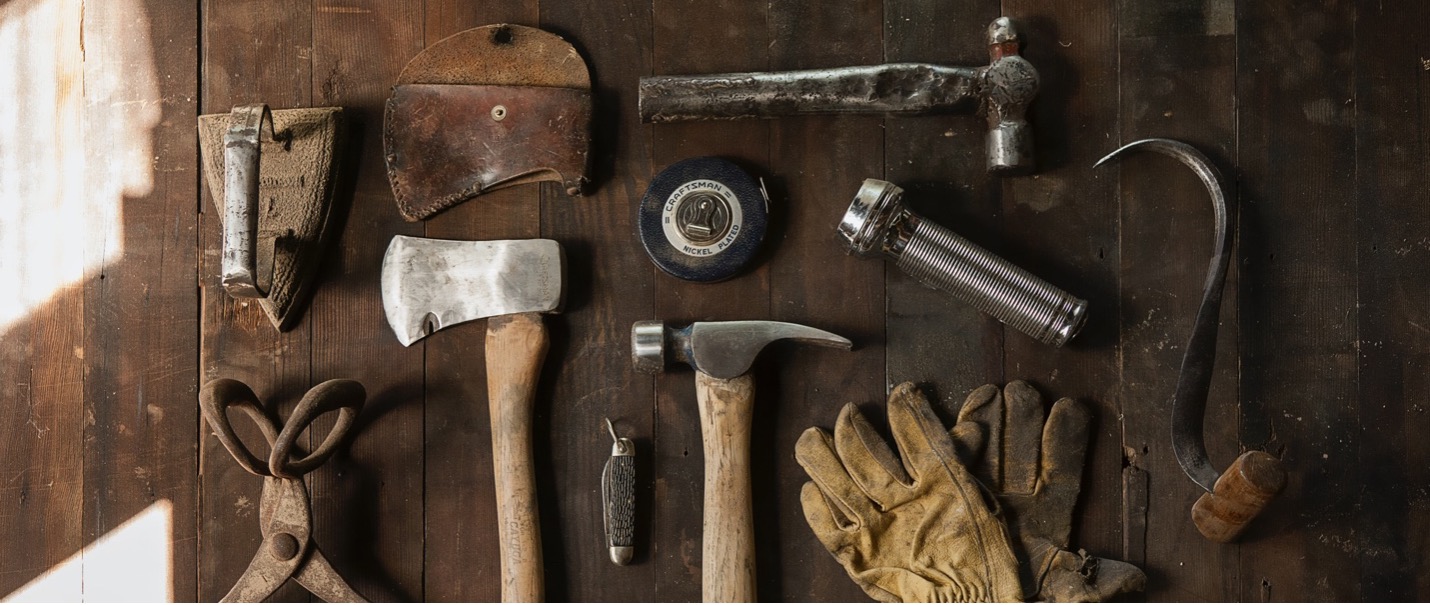 Leading a high growth business is hard, requiring constantly shifting priorities as you grow from a startup to an established growth enterprise. Few business leaders have experienced taking a company from inception through $100 million in revenue, and as a result, may not know what capabilities their business must put in place to keep growth from stalling. Because capabilities take time to build, an organization needs to anticipate its future needs and define which capabilities to prioritize at each stage of development. What would help is a comprehensive framework for thinking about how capabilities should develop over time.

Introducing the Vention Growth Toolkit
We've developed the Vention Growth Toolkit to provide business leaders, board members and investors with a framework for identifying, prioritizing, and describing the critical capabilities they need to sustain growth. Based on our experience as founders, executives, board members and advisors, the Vention Growth Toolkit is a constantly evolving resource we wish that we had while leading multiple businesses through different stages of growth.
This article describes 50+ growth capabilities across 10 areas in which businesses need to invest as they grow: CEO and leadership team; board and governance; business models, strategy and planning; go-to-market approach; offerings and value propositions; operations, activities and processes; people, organization and culture; other capabilities and resources; partnerships and M&A; and financial and business results. We've also included a Growth Capabilities Checklist at the end of the article that you can use to discuss and prioritize the growth capabilities. More detailed resources, including key questions, maturity level descriptions, and curated external sources for getting started, are available at ventionpartners.com/growthtoolkit. Use the Vention Growth Toolkit as a starting point for aligning with colleagues around the capabilities that your company needs to build.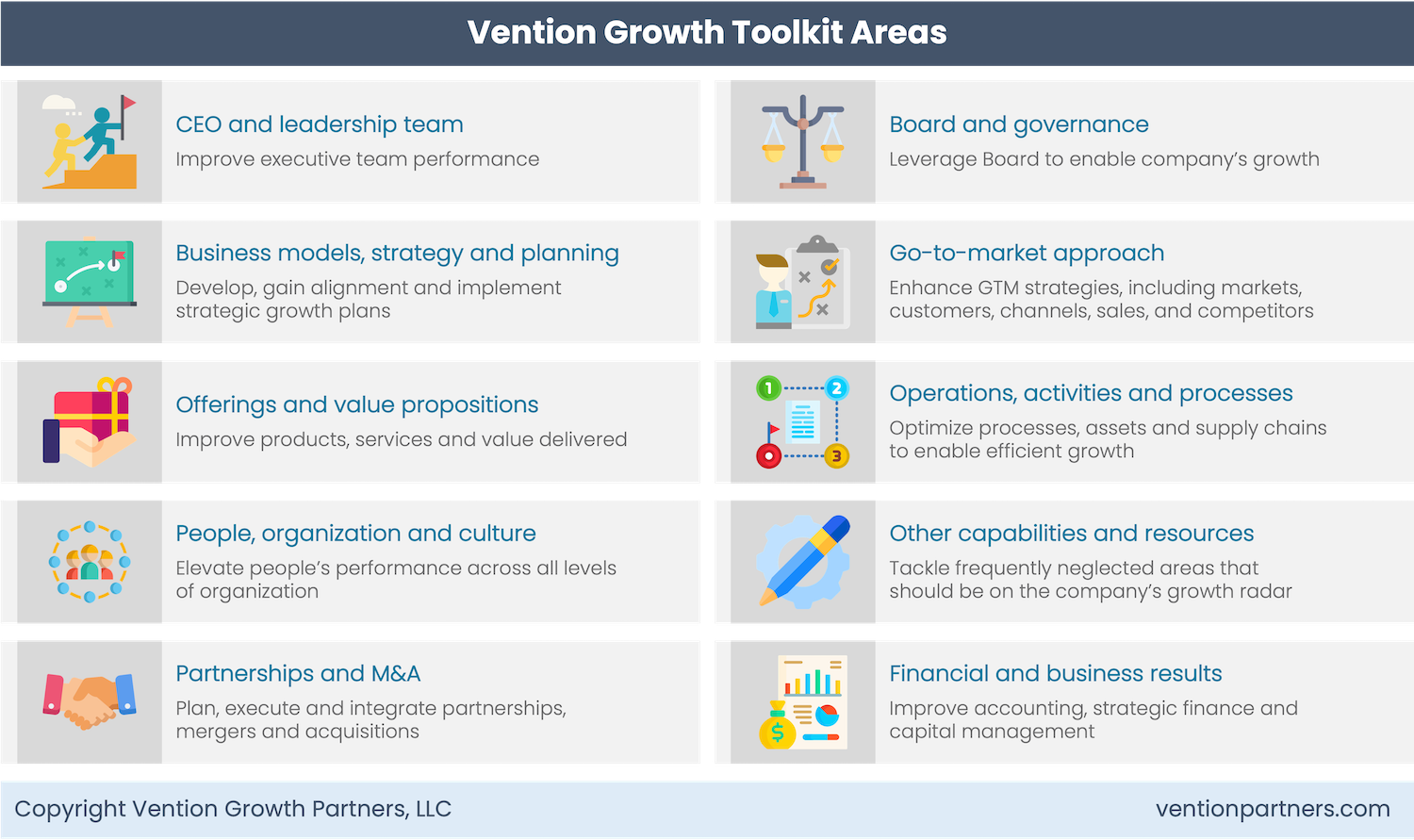 The CEO and leadership team set the tone, direction, and rhythm for every organization. This includes enabling an agile cadence for decision making and execution; empowering teams to make decisions and achieve results; achieving alignment; developing existing and emerging leaders; and making sure succession plans are in place that improve the leadership of the business over time.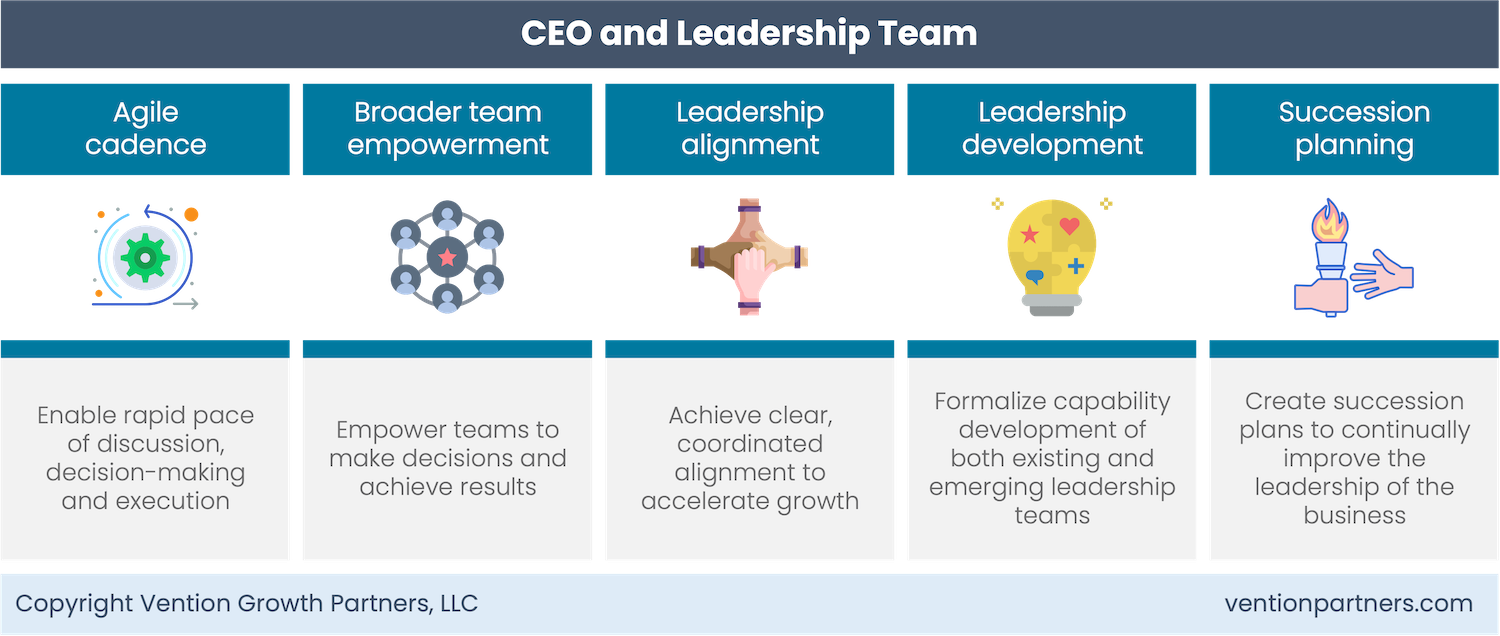 Board and corporate governance activities are often underdeveloped in earlier stage growth companies but can be a source of significant value. Capabilities include establishing board committees to address specific opportunities and issues; preparing consistent and well-structured board reports and metrics; and providing structure that maximizes the value that the board provides.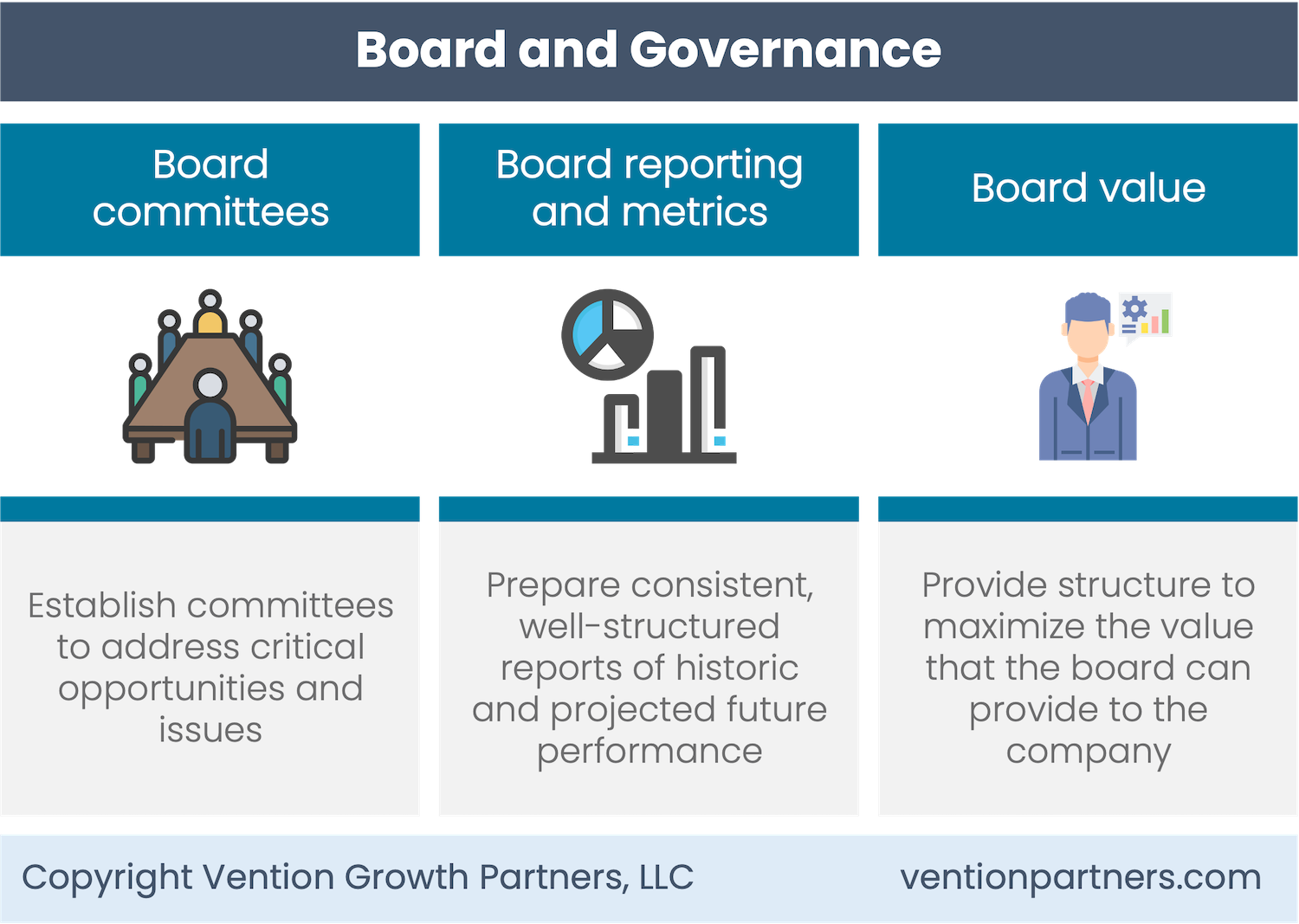 Business models, strategy and planning are about knowing where your company is going and how you're planning to get there. Capabilities include establishing and evolving the right business models to maximize growth and profitability; discovering and evaluating disruptive technologies with the potential to impact your business; developing execution plans that enable rapid and measurable progress; and aligning around clear growth plans that tie together strategy, execution, and financial performance goals.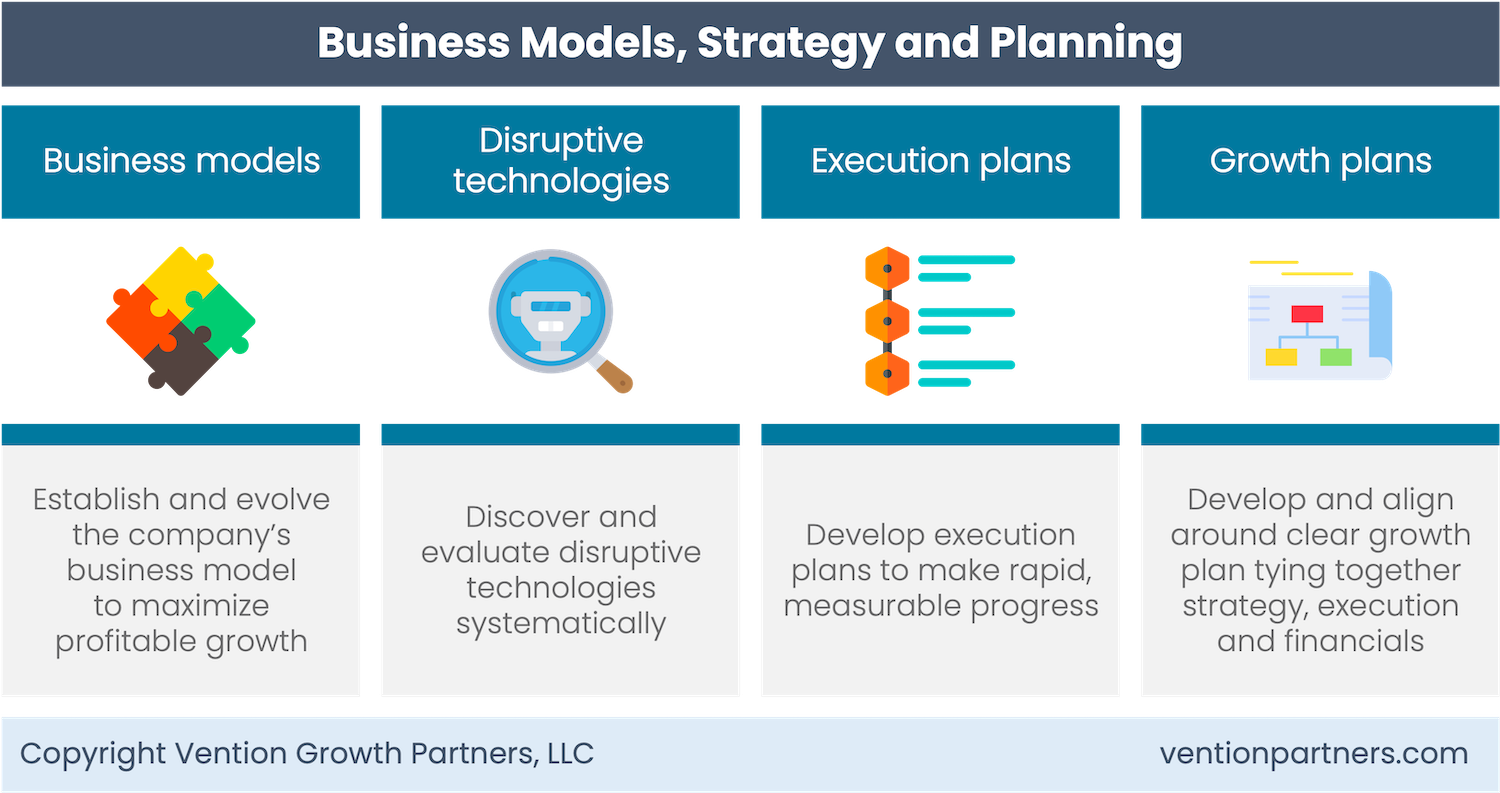 Your company's go-to-market approach covers all customer and market facing activities, including functions like marketing, sales, and customer service. Not surprisingly, there are many capabilities in this area that need to be developed and evolved over time, including leveraging the best mix of direct and indirect distribution in a channel strategy; putting in place competitive intelligence to ensure informed decision making; developing robust views on value delivered, revenue generated and costs to determine customer lifetime value; establishing effective public relations; expanding markets to penetrate new customers segments and geographies; establishing market research enabling rapid adjustments in offerings and go-to-market plans; developing accurate estimates of market opportunities; executing effective marketing campaigns; and pricing offerings to optimize value delivered and profitability.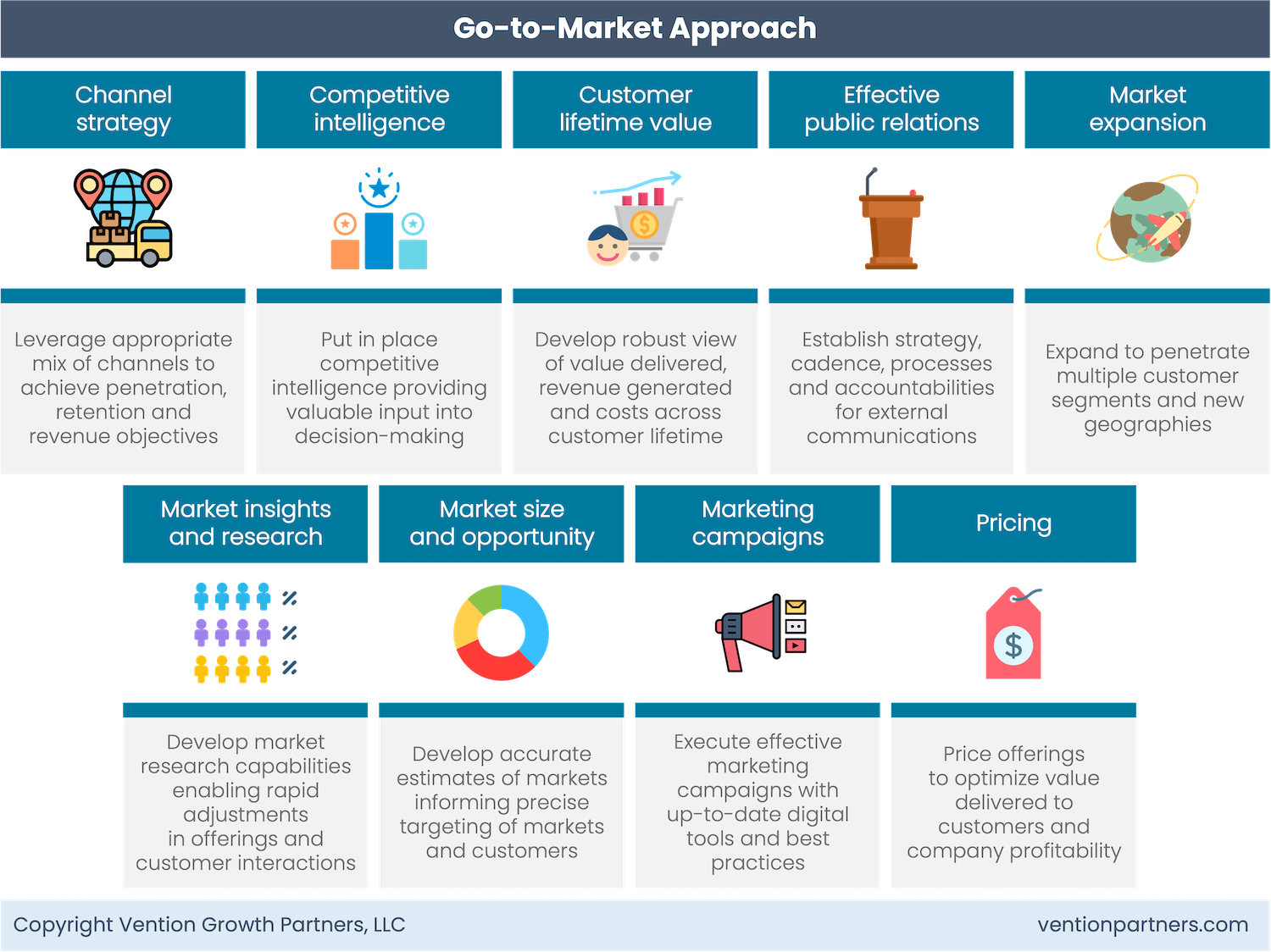 Offerings and value propositions encompass the functions responsible for developing and managing your company's products and services. Capabilities include developing product and technology roadmaps that enable effective decision making, communication, and integration; expanding products from an initial single offering to a multi-offering strategy targeting different customer segments and use cases; and developing product management capabilities responsible for orchestrating all the company's offerings.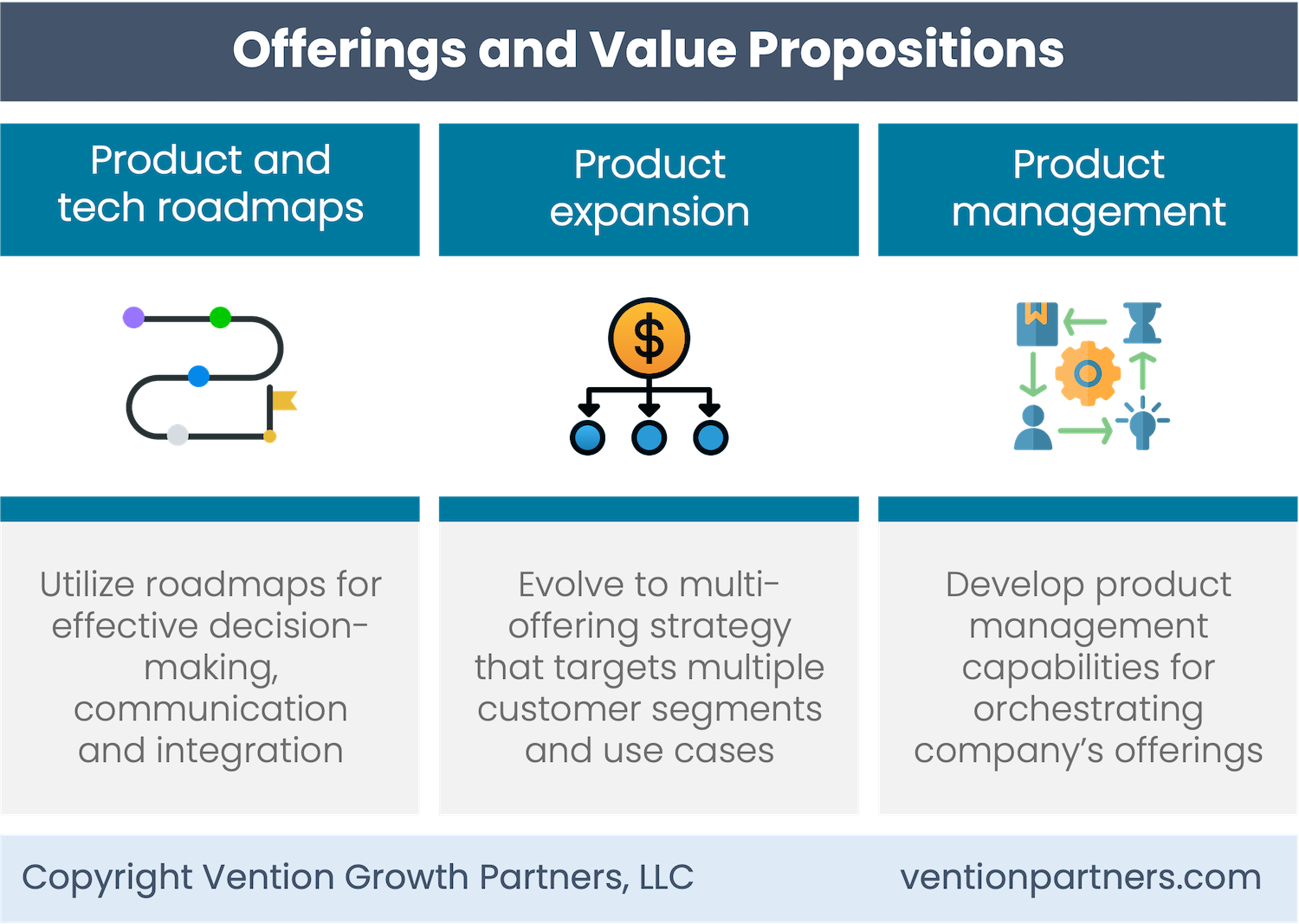 Operations, activities and processes are the ongoing functions focused on delivering your company's products and services. As your company grows, you will need to pay attention to optimizing processes across functions and with business partners; evolving processes in advance of scaling the business; and developing robust supply chain and logistics capabilities, particularly if you are in a physical product-based business.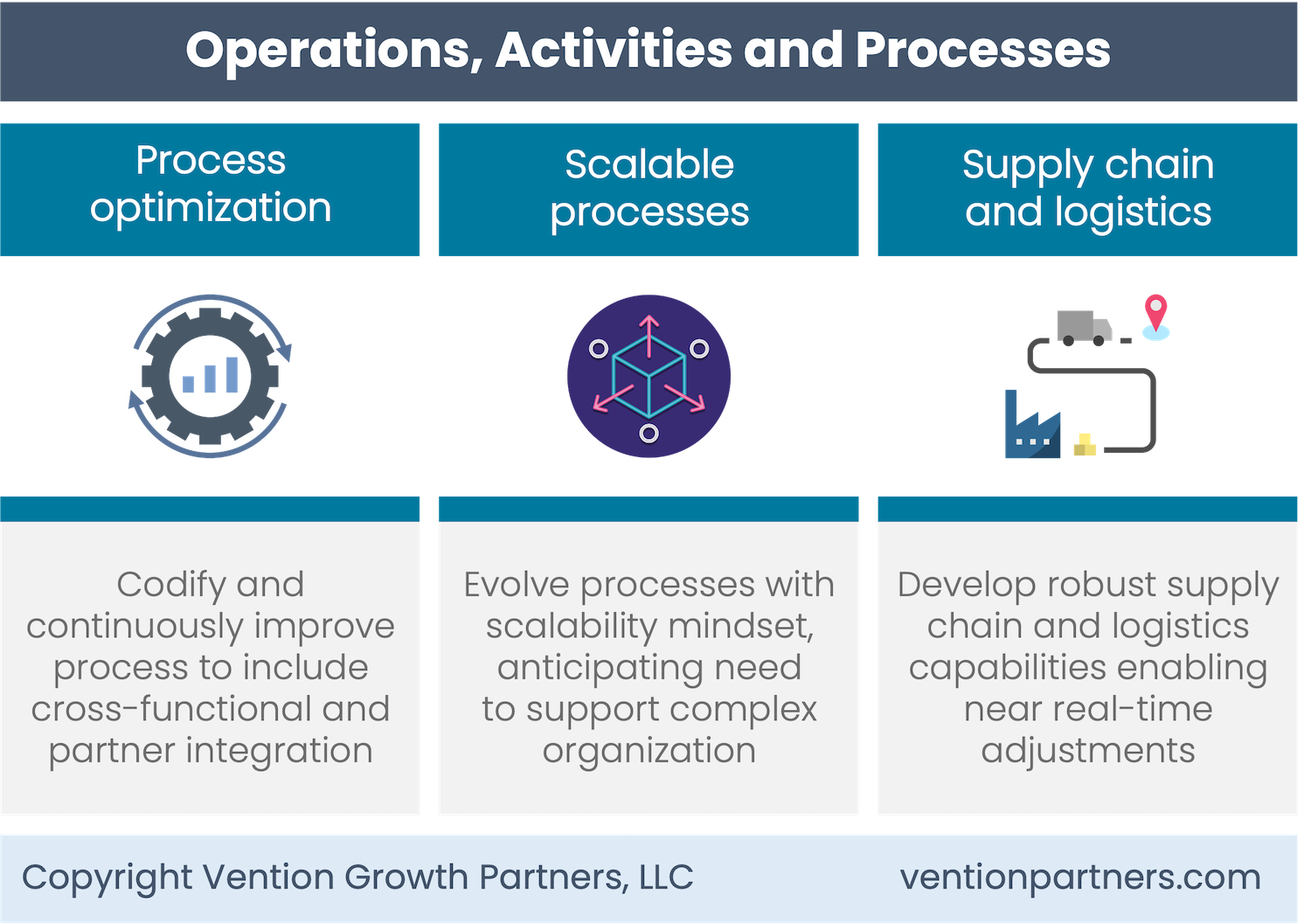 People, organization and culture represent the foundation layers of most companies, enabling the development, production and marketing of valuable offerings to customers. Growth capabilities to address include achieving consensus; developing competitive compensation; ensuring clearly defined job descriptions; providing equity incentives; fostering a high-performance culture; executing company-wide communication; maximizing meeting effectiveness; motivating people; and embedding a scalability mindset across the organization.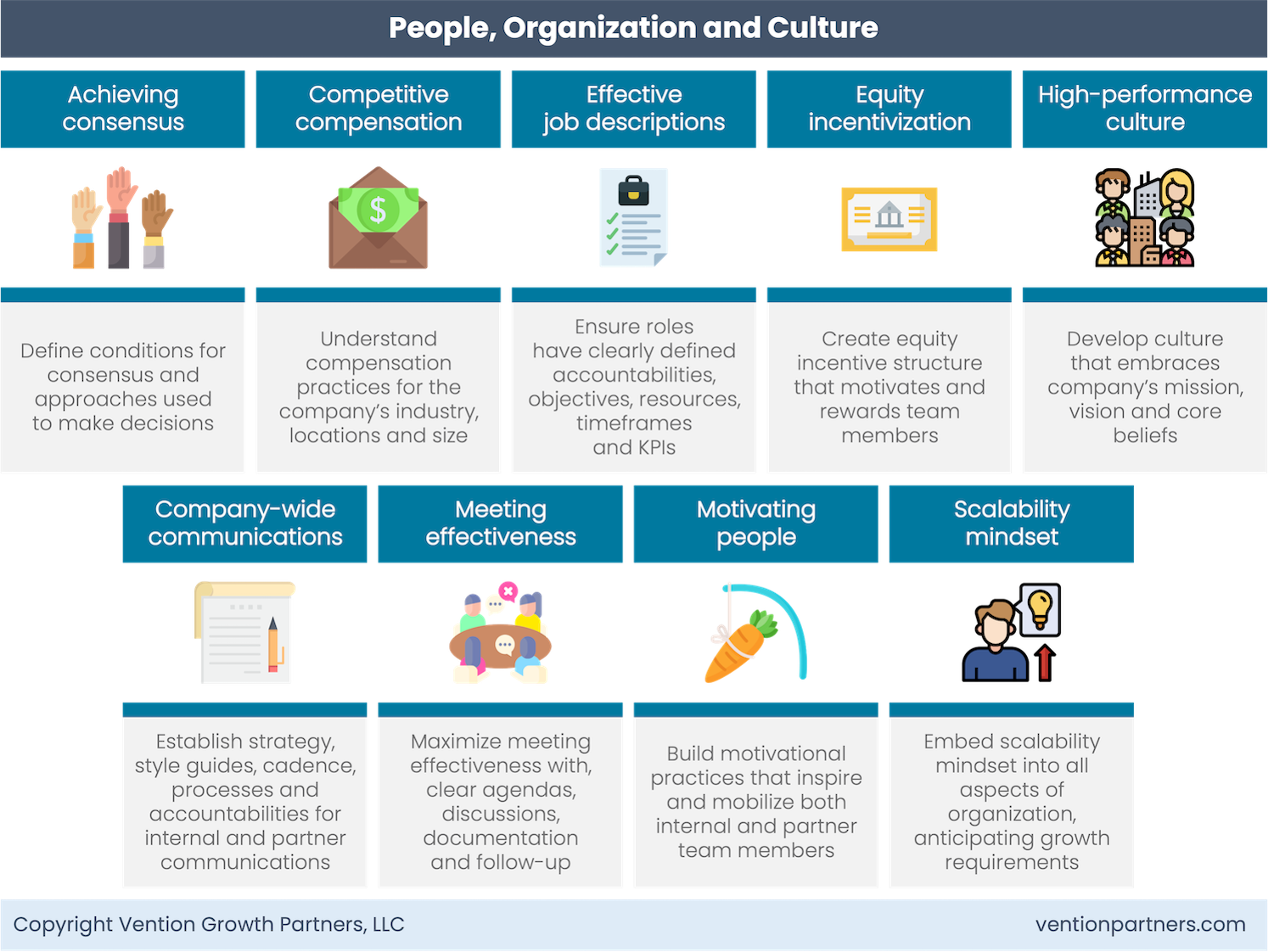 We've identified a set of other capabilities and resources that are frequently overlooked but should be on the growth company's radar screen. These include improving productivity through adopting collaboration platforms; developing innovative mindsets; utilizing data analytics and AI to improve decision making and enable automation; putting in place safeguards to protect intellectual property; anticipating other assets and infrastructure needed to grow; addressing regulatory and compliance risk; and determining the technology infrastructure needed to enable growth.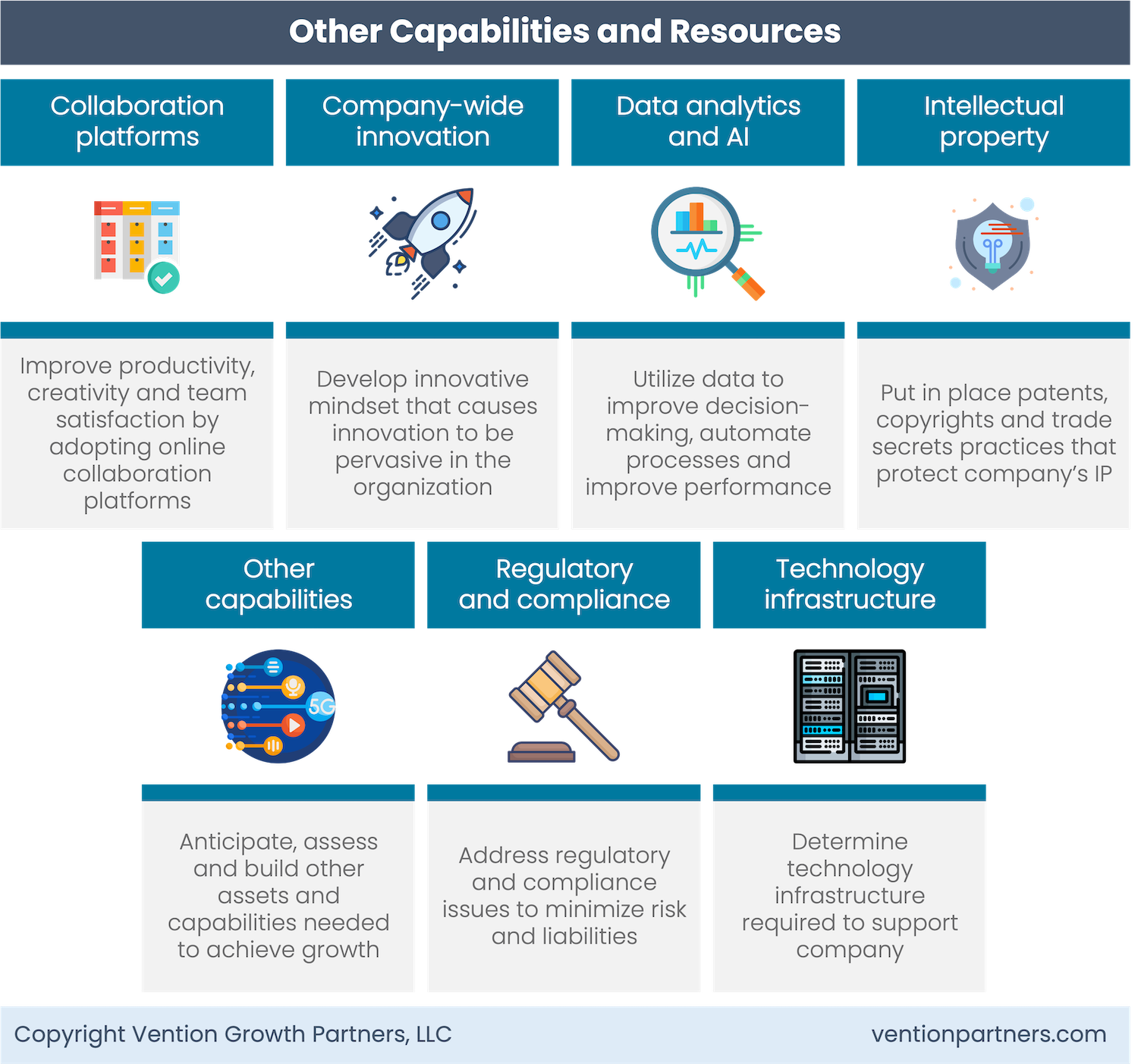 Most businesses will eventually need to execute business partnerships and M&A as they grow. This means developing capabilities to identify, pursue and close on mergers and acquisitions; building merger integration capabilities to achieve expected outcomes; and identifying, developing, and structuring the best strategic partnerships.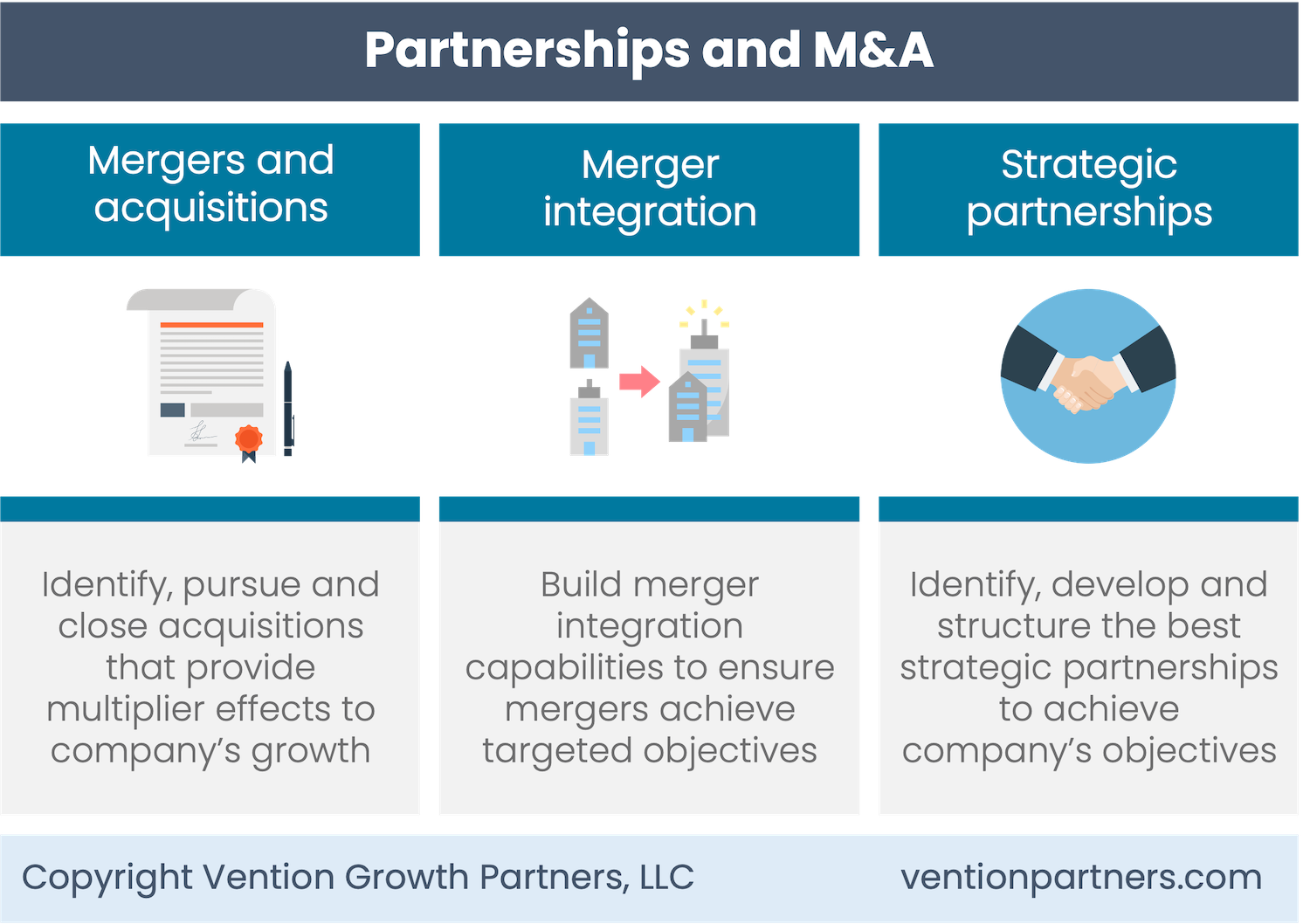 Finally, your company's performance comes together in the form of financial and business results. These include putting in place accounting and financial controls; developing forecasts, budgets and modeling; preparing for an IPO or other exit; leveraging metrics and dashboards to measure progress and make adjustments; defining optimal capital mix and balance sheet structure; and building sophisticated strategic finance capabilities that expand beyond reporting to enable really good decision making.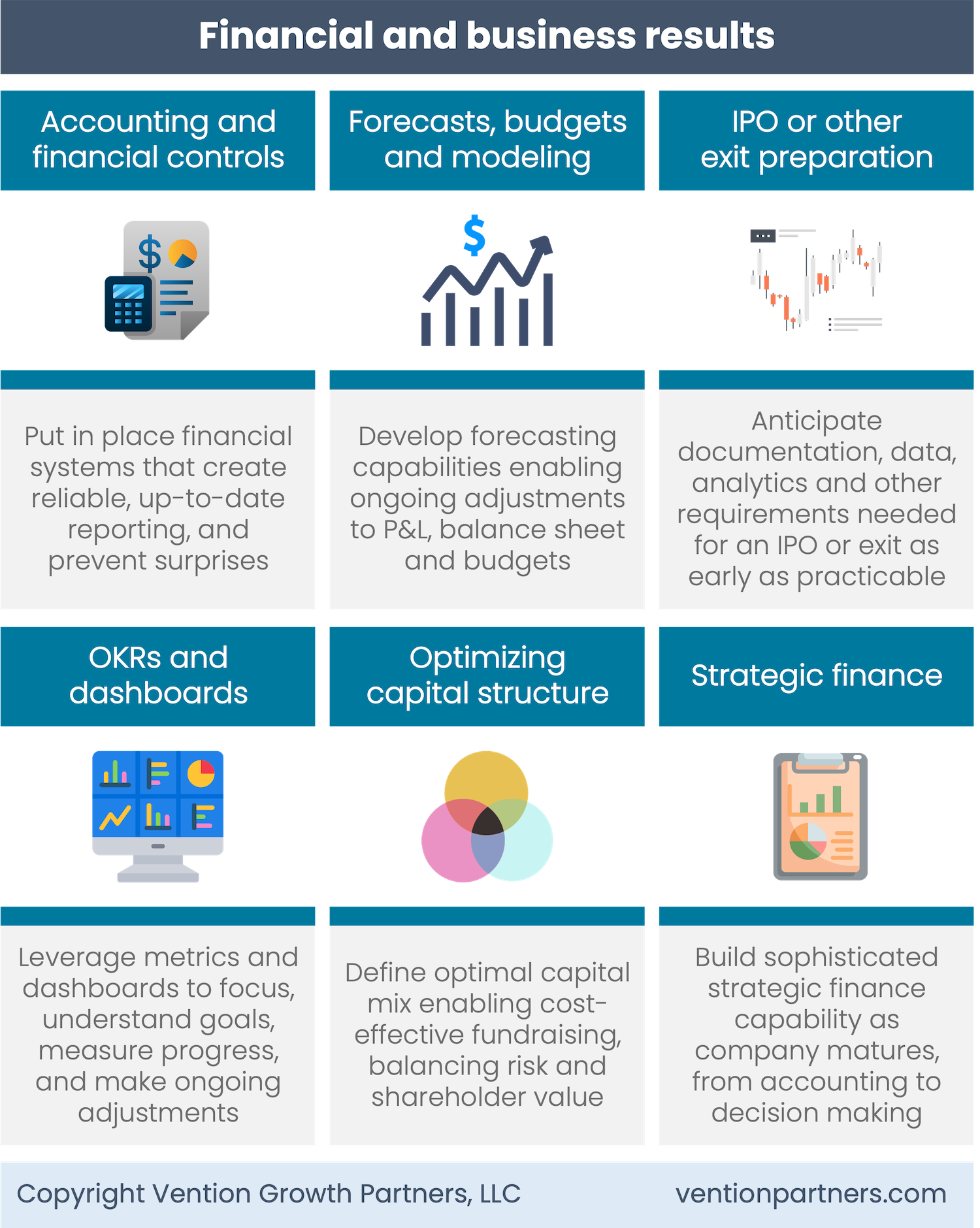 Growth capabilities checklist
We've included a Growth Capabilities Checklist at the end of this article as a tool for identifying the kinds of capabilities your organization may need to build as you move forward. Additional descriptions of each growth capability by stage of maturity are available on our website to help you envision the changes you may need to make.
Join the conversation
The Vention Growth Toolkit provides a starting point for business leaders, board members and investors to identify and prioritize the capabilities their companies need to reach the next stage of growth. We expect that the toolkit will evolve over time as best practices evolve and new business models emerge. Have feedback? Let us know what we missed or can improve. More detailed resources, as well as ways to join the conversation, are available at ventionpartners.com.